William Coryell, MD | University of Iowa
Holly C. Wilcox, PhD | Johns Hopkins University
Formed in September 2010, the Suicide Prevention Task Group has been leveraging the expertise of its members to strengthen existing efforts in suicide prevention for all age groups.  Efforts to date have included providing significant feedback for the NNDC Common Assessment Package in relation to measures assessing suicidality.
The group is currently completing a study with funding by the American Foundation for Suicide Prevention (AFSP).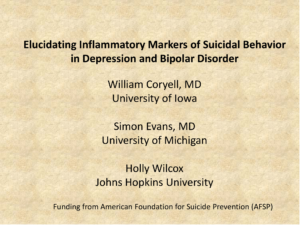 TASK & SPECIAL INTEREST GROUPS