CO-CHAIRS
Rachel Conrad, MD | Brigham and Women's Hospital
Meera Menon, MD | The Ohio State University
WHY A TASK GROUP?
College has been called "the age of depression." It's no surprise that depression is so prevalent in college students. The symptoms of depression are most commonly seen first in the early teen years and increase through the college years.  College brings with it new sources of stress, and more easy access to unhealthy coping mechanisms like alcohol, all while students are adjusting to life beyond the familiar support systems of home. Those and other factors can trigger depression. The consequences for this population are significant. Depression is the number one risk factor for suicide, and suicide is the second-leading cause of death among college students.
To address this urgent mental health issue, the College Mental Health Task Group, started in February 2011, is working to identify resources available to researchers, clinicians and educators working in the field of college mental health. In addition, the Task Group members have identified college depression education outreach programs at their NNDC Centers of Excellence with the potential to be disseminated and implemented at other member centers.  Examples include the Depression on College Campuses initiative, a conference which began in 2001 at the University of Michigan, and Campus MindWorks, a web-based initiative developed at the University of Michigan Depression Center and supported by the U.S. Department of Education. The College Mental Health Task Group is currently comprised of 62 members representing 17 NNDC Centers of Excellence.
We've built the task group into a nationally recognized entity.
The College Mental Health Task Group was formed to fill the need for answers and guidelines concerning mental health in the college population. Special difficulties accompany this stage in life filled with hard decisions, changes, and the acceptance of more responsibility. During the transition to adulthood, college students may experience vulnerabilities that need to be addressed before they can develop into happy, functioning adults.
CMH Task Group participates in prominent national meetings  including: APA, AADPRT, DoCC
Active in the APA CMH caucus
Enjoy solid relationships with The Jed Foundation and now AACAP
Member Contributions

Daniel Eisenberg, PhD (University of Michigan) and Sarah Ketchen Lipson, PhD, M.Ed. (Boston University) – Healthy Minds Network and organizers of the premier national College Mental Health Research Symposium
Doris Iarovici, MD (Harvard) Mental Health Issues and the University Student
Cheryl Ann King, PhD (University of Michigan), Students' eBridge to Mental Health
Marcia Morris, MD (University of Florida) The Campus Cure: A Parent's Guide to Mental Health and Wellness for College Students
Marcia Morris, MD (University of Florida) "Treatment of First Episode Psychosis in College Students: It Takes a Team." The Carlat Child Psychiatry Report. August 2017, Vol 8, Issue 5, Psychosis in Children and Adolescents.
Marcia Morris, MD (University of Florida) "Clinical Care of the Suicidal College Student: When and How to Involve Parents." Psychiatric Times. September 2015. 40-41. Web. 23 September 2015.
Laura Weiss Roberts, MD (Stanford) Student Mental Health: A Guide for Psychiatrists, Psychologists, and Leaders Serving in Higher Education
Anthony L. Rostain, MD, MA (UPenn) Co-Author, "The Adult ADHD Tool Kit: Using CBT to Facilitate Coping Inside and Out," & "Cognitive-Behavioral Therapy for Adult ADHD: An Integrative Psychosocial and Medical Approach"
Stephen M. Strakowski, MD (Editor) University of Texas at Austin, Melissa DelBello, MD, MS (Editor) University of Cincinnati, Caleb M. Adler, MD (Editor) University of Cincinnati, Bipolar Disorder in Youth: Presentation, Treatment and Neurobiology 
Presentation to 2017 NNDC Annual Conference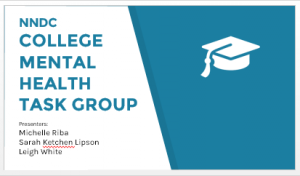 Research & Background
College students are required to navigate a complicated social structure when managing their platonic and romantic relationships, and these social factors can have a huge impact on their emotional health. There is a link between college students' reported incidences of casual sex and their psychological distress (1). On the other hand, perceived social support has been shown to moderate anxiety and depression in college students with perfectionist tendencies (2).
Emerging adults are particularly vulnerable to things such as drug and alcohol abuse as well as adverse current events. Alcohol use in conjunction with impulsivity has been shown to affect how depressive symptoms affect suicide proneness in college students (3). After the Boston Marathon bombing and aftermath events, there were sharp increases in college students' primary and mental health care visits for depression and anxiety (4). Exposure to physical danger can take an emotional toll on everyone, and college students are no exception.
References:
INTERESTED IN JOINING?
Researchers from our current member institutions should contact Jennifer Taylor, Program Manager ([email protected]), for more information about being added to the task group.
We are not accepting non-affiliated researchers at this time to our Task Groups. We do, however, encourage researchers who are not from our member institutions to talk to their current institutional leadership about becoming a member of our Network. More information about joining the NNDC can be found on our membership opportunities page: https://nndc.org/membership/