CO-CHAIRS
Michael J. Ostacher, MD, MPH, MMSc | Stanford University
Katherine Burdick, PhD | Brigham and Women's Hospital
Jorge Almeida, MD, PhD | University of Texas, Austin
One of the objectives of the Bipolar Disorders Task Group is to provide oversight and support for innovative research projects to expand our knowledge of the genetic origins of the disease.  Their efforts to date have helped to move critical research forward, including EMBARC (Establishing Moderators/Mediators for a Biosignature of Antidepressant Response in Clinical Care), a multi-center study of biomarkers in bipolar patients which was funded by the National Institute of Mental Health.
2019 NNDC Interest Group Publications: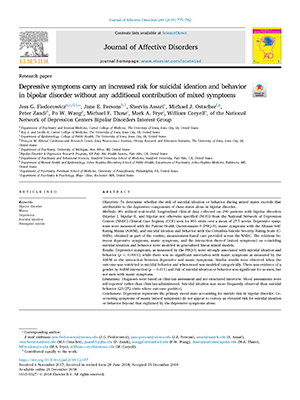 Depressive symptoms carry an increased risk for suicidal ideation and behavior in bipolar disorder without any additional contribution of mixed symptoms
Authors: Jess G. Fiedorowicz, Jane E. Persons, Shervin Assari, Michael J. Ostacher, Peter Zandi, PW Wang, Michael E. Thase, Mark A. Frye, William Coryell, of the National Network of Depression Centers Bipolar Disorders Interest Group
Pilot randomized controlled trial of web-delivered acceptance and commitment therapy versus smokefree.gov for smokers with bipolar disorder
Authors: Jaimee L. Heffner, PhD, Megan M. Kelly, PhD, Jeanette Waxmonsky, PhD, Kristin Mattocks, PhD, Edit Serfozo, MPH, Jonathan B. Bricker, PhD, Kristin E. Mull, MS, Noreen L. Watson, PhD, Michael Ostacher, MD
2017 NNDC Conference Task Group Poster:
Do mixed symptoms carry an increased risk for suicidal ideation and behavior beyond that attributable to depressive components?
Author: Jess Fiedorowicz, MD, PhD, University of Iowa
Studying Bipolar Disorders

Journal of Medical Internet Research:
Predicting Mood Disturbance Severity with Mobile Phone Keystroke Metadata: A BiAffect Digital Phenotyping Study
Authors: John Zulueta1, MD; Andrea Piscitello1, MS; Mladen Rasic1, BA; Rebecca Easter1, BA; Pallavi Babu2, BA; Scott A Langenecker1, PhD; Melvin McInnis2, MD; Olusola Ajilore1, MD, PhD; Peter C Nelson1, PhD; Kelly Ryan2, PhD; Alex Leow1, MD, PhD.
Corresponding Author:
Alex Leow, MD, PhD
University of Illinois at Chicago
aleow [at] psych.uic.edu
TASK & SPECIAL INTEREST GROUPS