Michigan State University & Pine Rest Christian Mental Health Services Hiring VP of Research & MSU CMH Division Director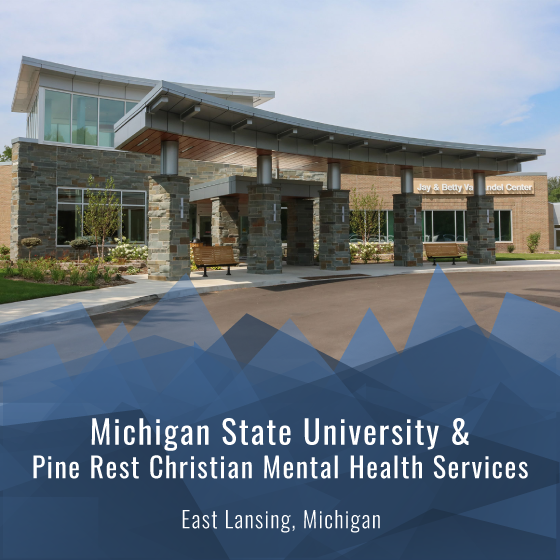 Pine Rest Christian Mental Health Services is hiring a VP of Research & MSU CMH Division Director.
Apply at: Please submit your CV and cover letter to [email protected] or simply apply via our careers page: www.pinerest.org/join-our-team.
Employment Status: Full-Time
Hours Per Week: 40
Shift: First Shift
The Vice President of Research & Michigan State University College of Human Medicine (MSU CMH) Division Director of Psychiatry and Behavioral Health assumes the critical senior leadership role of the Research department at Pine Rest and in partnership with MSU CHM will also be the Division Director of Psychiatry & Behavioral Health for the medical school. This role is responsible for the leadership, growth, and development of a sustainable academic department within the Pine Rest organization and in partnership with MSU CHM. And as the VP of Research will be responsible for the strategic growth of clinical research across Pine Rest organization and assuring an efficient and advanced environment in which to conduct clinical research, while ensuring compliance with federal and state regulatory requirements and maintaining their own clinical research. The VP of Research and MSU CMH Division Director must demonstrate excellent customer service and have enthusiasm about Pine Rest programs, the Pine Rest organization, and growing and developing the research department in partnership with MSU CHM.
Principal Duties and Responsibilities:
MSU-CHM Division Director of Psychiatry and Behavioral Health
Improves the impact and profile of MSU-CHM and MSU through making visible the work that is happening at Pine Rest/MSU.
Stewards the resources at MSU-CHM and Pine Rest to effectively connect and create synergy between the organizations through new projects, abstracts, papers, grant proposals or funded grants.
Provides innovative solutions for involving medical students, residents, and Pine Rest care providers in scholarship.
Establishes a productive working relationship with employed and community faculty, staff, residents, students, and administration.
Oversees matters pertaining to Pine Rest & MSU-CHM employment and assures that Pine Rest and Michigan State University goals and strategies are aligned.
Represents the division of Psychiatry and Behavioral Health at various local, regional, and national venues.
Guides the development and growth of research programs and fosters an environment of scholarly activity.
Acts as an advisor to the Pine Rest/MSU academic training programs (i.e. Psychiatry Residency, medical students, etc.)
Vice President of Clinical Research
Supports the growing research department at Pine Rest in collaboration with MSU to continue to encourage and support publications and grant funded projects.
Fosters an environment of inquisition.
Serves as a leader of the Pine Rest Research Steering Committee; leads the continual improvement of processes and systems for the research department.
Builds and fosters relationships with other external partners to develop research opportunities.
Supports the Pine Rest Research Strategic Plan.
Ensures the Research department demonstrates continued growth in publication and grant funded activities, including NIH and industry funding.
Clinical
A credentialed member in good standing of the Pine Rest Medical Staff.
Serves in Psychiatry clinical work that aligns with the academic and research goals of the individual, department, and organization.
Participates and provides leadership in the interviewing of persons served and assessing them through mental status and/or psychometric testing, as well as reviewing other medical records outside of the hospital.
Selects appropriate therapies or treatments for the persons served, based on specific symptoms and signs, laboratory tests, and knowledge of the natural history, pathogenesis, and prognosis of the conditions. Directs and consults with other treatment team members in planning treatment programs for persons served.
Collaborates with other treatment team members regarding persons served; progression through interdisciplinary team meetings, record review, and informal discussions.
Participates regularly in departmental and staff meetings. Serves on programs or organizational committees as required and as time and workload allows.
Maintains license requirements. Builds knowledge of current trends and developments in treatment and counseling through the use of appropriate professional literature, medical workshops and publications.
May be required to participate in organizational Quality initiatives including maintaining satisfactory performance on reported CMS quality indicators (HBIPS) and persons served satisfaction scores.
Ensures that persons served progress notes are properly prepared and entered into the medical records on a timely basis and in accordance with established organizational and departmental procedures.
Creates a customer-friendly environment.
May monitor the effectiveness of interventions.
Required to meet the minimum established quality and productivity metrics defined by the division.
Responsible to uphold the healing ministry of Christ through relationships that honor integrity, stewardship, empowerment, the promotion of diversity, equity, inclusion, and professional excellence.
Must maintain annual training and demonstrate competency in the required programmatic training.
Performs other duties or functions as assigned.
Supervisory Responsibilities:
Administrative and research personnel of the Research department.
Indirect supervision of faculty as they conduct research and participate as active members of the MSU CHM Division of Psychiatry and Behavioral Health.
Required/Desired Qualifications:
Education, Training, and Experience:
MD or DO degree with specialty in Psychiatry is required.
ABPN Board Certification in Psychiatry is required.
Unrestricted license to practice medicine in the state of Michigan or the ability to obtain this license is required.
Three to five years of progressively more responsible work experience in a leadership position.
Five to ten years of clinical experience, to include clinical research process and funding.
Specific Skills, Knowledge, and Abilities:
Ability to provide care/service within the scope of: Holding a conviction to express Christ's love and compassion to recipients of services, coworkers, and surrounding communities through integrity, stewardship, empowerment, the promotion of diversity, and professional excellence.
Ability to provide culturally competent care with a wide range of individuals in a diverse community setting.
Interpersonal skills are required to establish and maintain appropriate relationships; negotiate with peers and superiors on policy and procedural matters; effectively handle emotionally charged sensitive and confidential situations; supervise and train staff; and write informational materials.
Ability to communicate effectively and work collaboratively in a complex interdisciplinary and interprofessional settings.
Extensive analytical skills are necessary to evaluate the department/program, policies and operating procedures, to propose improvements to the plan to meet changing needs and to assess resources, budgets and revenues.
The candidate may be required to have a valid Michigan driver's license and ability access to access Pine Rest transportation vehicles for the performance of job duties.
How Do I Apply?
Please submit your CV and cover letter to [email protected] or simply apply via our careers page: www.pinerest.org/join-our-team.
Pine Rest Christian Mental Health Services requires all employees to receive the COVID-19 vaccinations subject to certain exclusions. Pine Rest is committed to granting reasonable accommodations in accordance with applicable laws.
All new employees are subject to a criminal background check and education verification which may include sending a copy of your high school diploma, GED, or college transcripts.