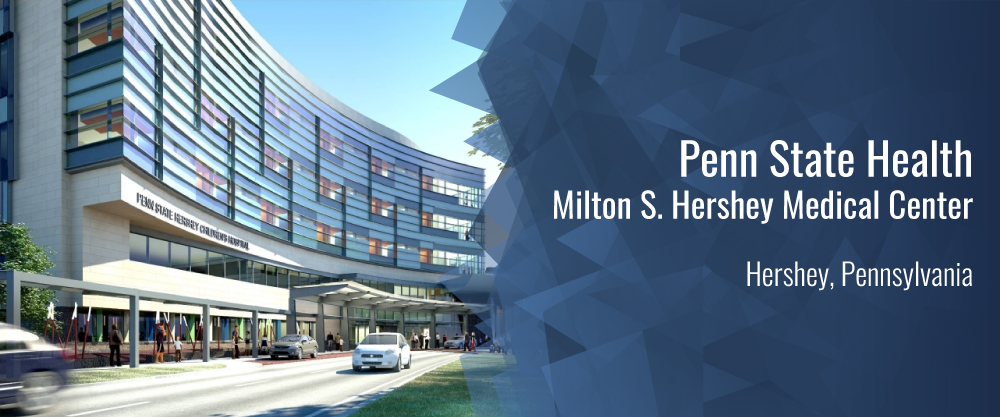 Penn State Hershey was founded in 1963 and the Department of Psychiatry was founded in 1971. Penn State Health Psychiatry aims to achieve excellence through the integration of education, research, patient care, and service to the community.
The mission of Penn State Health is to enhance the quality of life through improved health, the professional preparation of those who will serve the health needs of others, and the discovery of knowledge that will benefit all. The Department of Psychiatry, which operates within Penn State Health, endorses this mission statement by applying these principles the mental health field.
Patient Care
Penn State Health Psychiatry is firmly committed to improving care for people with psychiatric illness in our region. We provide a variety of clinical services in Central Pennsylvania through the Milton S. Hershey Medical Center, the Penn State Hershey Medical Group, and the Pennsylvania Psychiatric Institute (PPI), a joint venture between the Penn State Milton S. Hershey Medical Center and Pinnacle Health. Created in 2008, PPI includes an 80-bed community based psychiatric facility comprised of 174 full time employees. PPI boasts a comprehensive team of full-time, clinical psychiatrists (employed by Hershey Medical Center), as well as additional specialists who provide sensitive and compassionate care for children, adolescents, adults and older adults.
Specialized care is available for children, adolescents and adults with mood disorders, including ambulatory mood disorder clinics, CBT-based partial hospital programs, and a neuromodulation program with a focus on mood disorders. Our adult mood disorder team is composed of psychiatrists, psychologists, therapists, and psychiatry and psychology trainees.   The program includes a comprehensive psychiatric assessment, with a focus on including the family in the assessment.  We have referral to CBT groups for depression and/or individual psychotherapy as needed.  The child mood disorder team consists of a child psychiatrist, child fellow and psychotherapists.   The neuromodulation program evaluates patients for treatment –resistant mood disorders and treats with electroconvulsive therapy if necessary.
Awards and Expertise
Penn State Health ranked by The Scientist magazine as a top 40 best place to work in US Academia and is included in the 100 Great Places to Work in Healthcare by Becker's Hospital Review. Several physicians in the Department of Psychiatry have been recognized as Best Doctors in America.
Expertise in the department covers a wide range of areas, reflecting a diversity of our faculty. These areas of expertise include (listed alphabetically):
Assessment and evaluation
Addiction
Attention problems and disruptive behavior
Anxiety
Autism
Behavioral neuroimaging
Catatonia
Child abuse and trauma
Eating disorders
Genomics
Health economics
Mood disorders
Neuropharmacology
Neuromodulation
Sleep research and treatment
Schizophrenia
Substance abuse
Suicide
Research Milestones 
The founding research focus of our Department was the Sleep Research & Treatment Center, which treats patients with sleep disorders and expands knowledge through epidemiologic, behavioral, pharmacologic, and metabolic studies to improve treatment. Today, our science has expanded into many areas relevant to psychiatric care with basic, clinical and neuroimaging research. As our portfolio grows, we have groups studying substance abuse, attention-deficit hyperactivity disorder (ADHD), autism, and mood disorders.  We are partnering with Penn State's Institute for Personalized Medicine to explore genomic, epigenomic, and transcriptomic contributions to psychiatric illness.  We encourage research among all faculty and trainees, and have had medical and graduate students, fellows, and residents all participate regularly in research.
Partnership with Pinnacle Health to run the Pennsylvania Psychiatric Institute, a community-based care organization
Outpatient counseling and psychopharmacological services offered by Penn State Hershey and PPI to children and adults.
Partial hospitalization services offered by Penn State Hershey and PPI to children and adults who need intensive, short-term daily treatment
Inpatient services offered at PPI to children and adults who need intensive monitoring and care in the short-term
Consultation/ Liaison and integrated collaborative care offered at Hershey Medical Center to provide mental health assessment and intervention to adults and children throughout the medical center
Neuromodulation services offered at PPI for adults
Education/Outreach Initiatives 
The Department of Psychiatry supports medical student, physician assistant and psychology undergraduate student education, graduate medical education in psychiatry and child psychiatry.  All of training programs have full accreditation.  We encourage research by students, and we have an active student Psychiatry Interest Group.   Additionally, our department supports neuroscience graduate students and post-doctoral fellows.   The training programs are organized around evidence-based practices in pharmacology and psychotherapy.  Our trainees participate in didactics, case conferences, journal club, and evidence-based medicine seminars.  Additionally, we have a robust continuing education effort, such as a visiting lecture program.
We train medical students, nursing students, physician assistance students, psychiatry residents, psychiatry child fellows, and psychology interns. We offer a variety of clinical specialty settings.
Faculty participation in "Lioncare" – a free medical clinic run by the medical students at a community homeless shelter/substance abuse treatment program.
Fundraising for mental health charities, such as recent participation in a fundraising walk for the American Foundation for Suicide Prevention.
Contribute to Penn State Community Mini-Medical School and give talks to community organizations to help educate the community on mood disorders and other psychiatric concerns.
We participate in the Community Health Team with the medical center to coordinate and execute behavioral health educational programs with our larger community efforts for HMC.