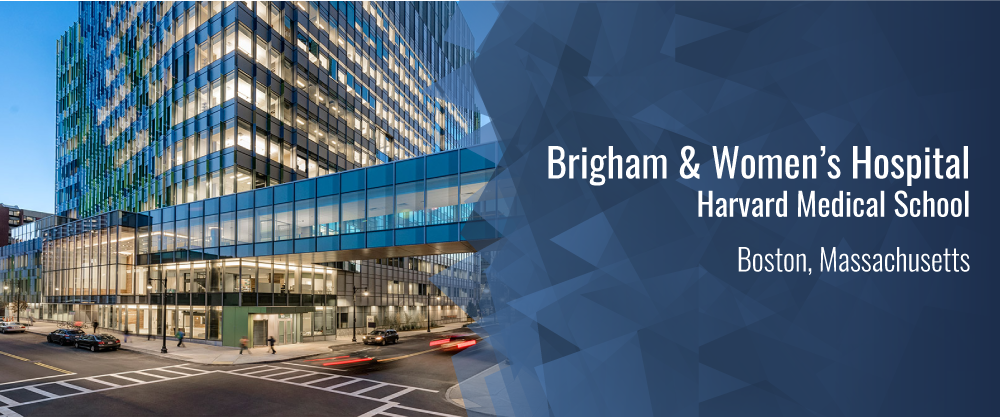 Request an appointment online or call 1-855-278-8009
About Brigham and Women's Hospital:
Brigham and Women's Hospital (BWH) is a 793-bed nonprofit teaching affiliate of Harvard Medical School and a founding member of Partners HealthCare, an integrated health care delivery network. BWH is the home of the Carl J. and Ruth Shapiro Cardiovascular Center, the most advanced center of its kind. BWH is committed to excellence in patient care with expertise in virtually every specialty of medicine and surgery. The BWH medical preeminence dates back to 1832, and today that rich history in clinical care is coupled with its national leadership in quality improvement and patient safety initiatives and its dedication to educating and training the next generation of health care professionals. Through investigation and discovery conducted at its Biomedical Research Institute (BRI), BWH is an international leader in basic, clinical and translational research on human diseases, involving more than 900 physician-investigators and renowned biomedical scientists and faculty supported by more than $485 M in funding. BWH is also home to major landmark epidemiologic population studies, including the Nurses' and Physicians' Health Studies and the Women's Health Initiative. (Learn more…)
Dr. David Silbersweig, Head of the Department of Psychiatry at Brigham and Womens Hospital explains how the Department of Psychiatry is using functional neuroimaging to observe brain functions in patients suffering from depression, anxiety, psychosis and other psychiatric disorders.
Read the Functional Neuroimaging: Mapping Psychiatric Illness video transcript.