LPGA Volvik Championship Returns to Ann Arbor, May 22-28
The second annu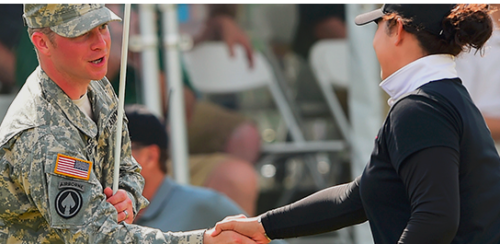 al event will be held in Ann Arbor at Travis Pointe Country Club from May 22-28, 2017. Over 30,000 spectators are anticipated to attend. As part of this Memorial Day Weekend event, the LPGA is again partnering with the National Network of Depression Centers (NNDC) to support veteran mental health.
By conservative estimates, 1 in 5 Americans has firsthand experience with depression, bipolar illness, or another mood disorder. Despite the overall resilience of the veteran population, service members, veterans, and military families struggle with these and additional mental health issues which can be triggered by the experience of traumatic events and long separations.
The NNDC brings together 26 Member Centers from leading U.S. academic medical universities to improve the diagnosis, treatment, and prevention of depressions, bipolar illnesses, and related mood disorders. We gratefully acknowledge the men and women serving our country abroad and at home for their service, commitment, and sacrifices.
ABOUT THE LPGA
The LPGA is the world's leading professional golf organization for women. Founded in 1950, the association celebrates a diverse and storied membership with more than 2,300 members representing 30 different countries. With a Vision to inspire, empower, educate and entertain by showcasing the very best of women's golf, LPGA Tour Professionals compete across the globe, while dedicated LPGA Teaching and Club Professionals (T&CP) directly impact the game through teaching, coaching and management. The Symetra Tour consistently produces a pipeline of talent ready for the world stage. The LPGA is headquartered in Daytona Beach, Florida. Follow the LPGA on its television home, Golf Channel, and on the web via: LPGA.com, facebook.com/lpga, twitter.com/lpga, and youtube.com/lpgavideo.
ABOUT VOLVIK
Volvik is the #1 Color Golf Ball on Tour with over 75 professionals using Volvik's ultra high-performance color golf balls on the world's professional tours. Since 2012, players using Volvik golf balls have earned over $8.5 million in prize money on the PGA TOUR, LPGA Tour, Champions Tour,Web.com Tour, Ladies European Tour, LAGT and Symetra Tour with 15 victories and over 100 Top 10 finishes.
Volvik has experienced more color golf balls in play on the world's professional tours than any other manufacturer in the history of golf.
Volvik is dedicated to the production of specialized 3- and 4-piece multi-layer golf balls that feature 41 worldwide patents. In over 30 years of golf ball production, Volvik has developed a reputation based on highly innovative development, quickly becoming one of the most significant and trusted golf ball manufacturers in the world.