Google Partners With NAMI to Raise Awareness of Signs of Depression
PHQ-9 Questionnaire Goes Mobile  
National Alliance on Mental Health (NAMI) and Google have joined the push to standardize the use of the Patient Health Questionnaire (PHQ-9), a brief self-administered diagnostic instrument for common mental illnesses, as a depression screening tool. "We applaud and support this pragmatic effort to raise awareness of depression and mental health," said Dr. J. Raymond DePaulo, Jr., Chair, NNDC, and University Distinguished Service Professor of Psychiatry & Behavioral Sciences at Johns Hopkins University School of Medicine.
Now, when mobile phone users search on "depression" they will be presented with an option to access a PHQ-9 questionnaire. The free private self-assessment can help determine their level of depressive symptoms and the need for an in-person evaluation. Resources links including NAMI and the National Suicide Prevention Lifeline are given with the scored evaluation.
"In 2008, after thorough and thoughtful deliberation, the leadership of the NNDC decided to adopt the PHQ-9 as a universal screening tool," said Dr. John Greden, Founding Chair, NNDC, and Executive Director, University of Michigan Comprehensive Depression Center. "The PHQ-9 has also become a key component of the NNDC's Mood Outcomes Program, now trending toward 5,000 patients in its registry and aiming for 25,000 soon," added Greden.
Primary care worlds learned some years ago it was best to utilize PHQ-9.  While not perfect, the PHQ-9 is a simple, standardized, reliable tool that both screens and sets the foundation for crucial longitudinal monitoring.
As a critical public health step, everyone should be screened for depression in medical settings, especially adolescents and young adults since they occupy the peak ages of onset.  While seemingly still not well-known, screening of everyone has been strongly endorsed by the U.S. Preventive Services Task Force. In 2016, they deemed screening for depression as the "Standard of Care."
Read wiki: PHQ-9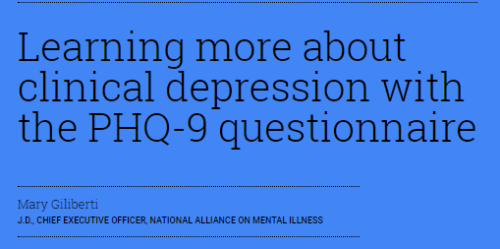 Read more: Learning more about clinical depression with the PHQ-9 questionnaire
Video: There is now a Google test for depression and mental ill health