Coming up at the University of Michigan: NNDC Visiting Professor Program
Please join us on Dec. 5th,  at 7:00 PM, when Dr. Jesse Wright will present "Computer Programs and Apps for Mental Health: How Technology Can Help You Overcome Depression and Anxiety." This event is FREE and open to the public.
Learn about computer programs and applications for depression and anxiety
Hear how live psychotherapy can work with programs and apps
See how to use these tools
When: Dec. 5th from 7:00-8:00 PM
Where: University of Michigan Depression Center Auditorium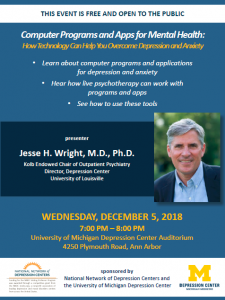 4250 Plymouth Rd.
Ann Arbor, MI
About the Speaker:
Jesse H. Wright, M.D., Ph.D.
Professor
Vice Chair of Academic Affairs
Director of the University of Louisville Depression Center
Dr. Wright, a pioneering researcher on computer-assisted psychotherapy, is the principal author of seven books on cognitive-behavior therapy and the first multimedia computer program for treatment of depression. His book for the general public, Getting Your Life Back: The Complete Guide to Recovery from Depression, was chosen by Self Magazine as one of the eight best self-help books. It is distinguished by an integrated method that unites psychological, biological, social, and spiritual approaches in the fight against depression.
Follow Dr. Wright on Twitter: @Jesswrightmd 
This event was made possible with funding from the NNDC Visiting Professor Program.