NNDC 2023 Annual Conference
October 12-14, 2023
Houston, Texas
NNDC 2023 ANNUAL CONFERENCE
with co-host UTHealth Houston
Dates: October 12-14, 2023
Location: Houston, Texas
Venue: InterContinental Houston
The National Network of Depression Centers (NNDC) will hold its 15th Annual Conference in Houston, Texas from October 12-14, 2023 with co-host University of Texas Health Science Center at Houston (UTHealth Houston).
The conference will be structured a little differently this year. NNDC meetings (Board, Task Groups, Mood Outcomes, etc) will take place on Thursday, October 12th. Sessions on Friday, October 13th will be dedicated to NNDC academic research topics. Saturday, October 14th will focus on UTHealth Houston Continuing Medical Education (CME) content. However, as always many NNDC sessions will be eligible for CME credit as well.
Our goal is to bring leading experts from across the Network and around the world together to learn, discuss, and explore opportunities to collaborate on initiatives designed to improve outcomes for people suffering from depression and related mood disorders. Through merging the NNDC and UTHealth Houston conferences, our hope is to provide a platform for researchers and practitioners to connect and gain insight into one another's fields while exploring effective solutions for optimal care.
The NNDC would like to thank conference chair Dr. Sagar Parikh, the Program Committee, and all of the sponsors, presenters, and facilitators who are helping to make this year's conference as memorable as the last!
Stay tuned for updated conference information on this webpage, and make sure to subscribe to the NNDC monthly newsletter so you can receive breaking network news delivered right to your mailbox!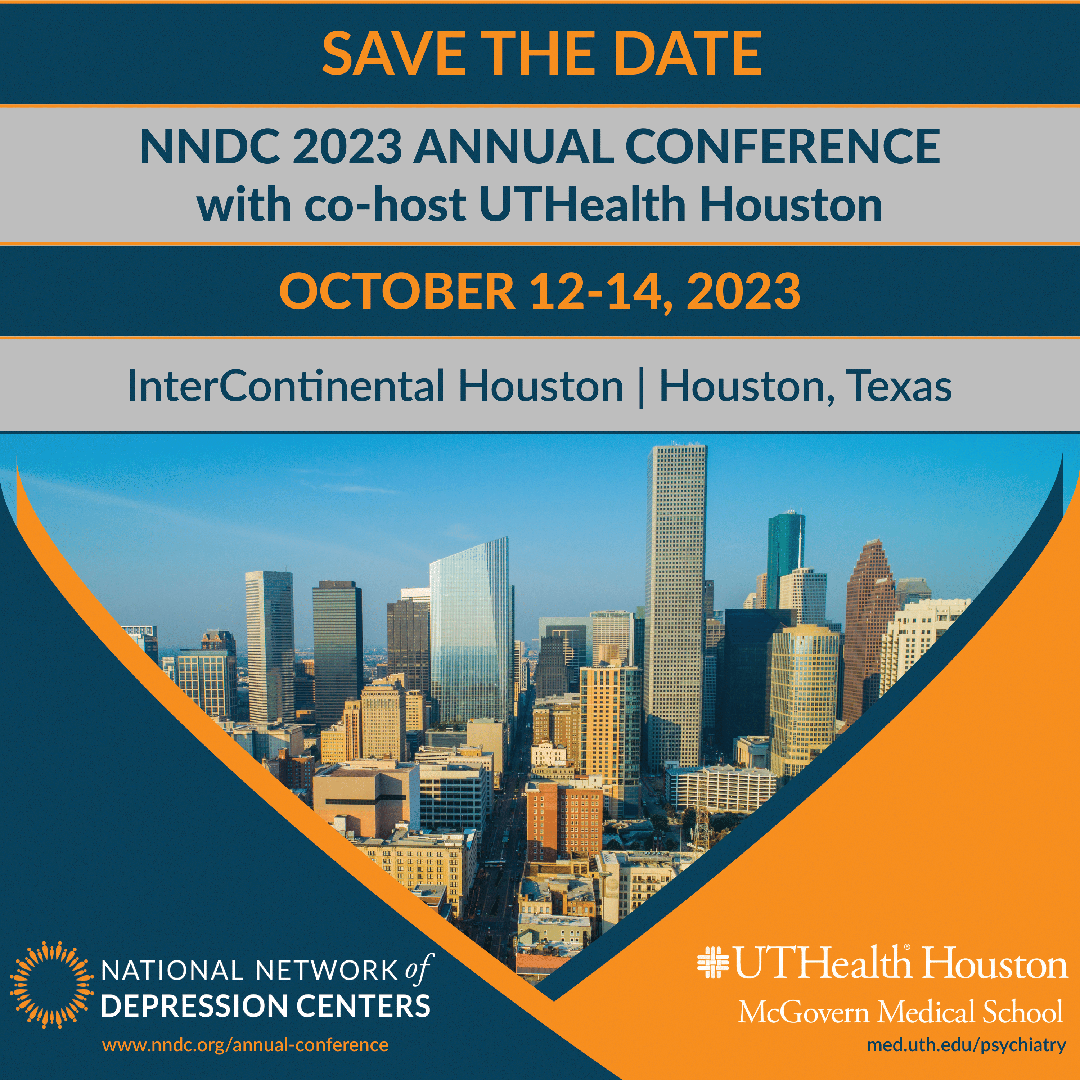 UTHealth Houston
UTHealth Houston Psychiatry consists of the Louis A. Faillace, MD, Department of Psychiatry and Behavioral Sciences, UTHealth HCPC, the John S. Dunn Behavioral Sciences Center, and several clinics in the greater Houston area.
The Louis A. Faillace, MD, Department of Psychiatry and Behavioral Sciences' mission follows three pillars: education, research, and patient care. Each year, the department trains students, residents, and the fellows of today to become the mental health care leaders of tomorrow – whether in public or private sectors, in solo or group practice, as researchers, educators, or clinicians. Training totals more than 1,650 students and 175,000 hours of education annually, including specialties in psychiatry, psychology, mental health nursing, and social work.
The faculty and staff are at the forefront of the exploration of the causes and treatments of mental illnesses. They generate more than $6 million annually in grant-supported research. Specific areas of research include mood and anxiety disorders, trauma and grief, childhood disorders, and addiction, with new programs in post-traumatic stress, integrated clinical neuroscience and treatment, early diagnosis & intervention, biochemical markers, psychiatric genetics, and geriatric psychiatry. The UTHealth Houston psychiatry department faculty members' wide variety of expertise covers the full spectrum of behavioral disorders, supporting research they pursue in conjunction with their clinical and educational contributions to the department.
UTHealth Houston is expanding its psychiatry department. With the opening of the new John S. Dunn Behavioral Sciences Center combined with UTHealth Houston Harris County Psychiatric Center, the Dunn Behavioral Sciences Campus was formed. Harris County and Houston, TX now boasts the largest psychiatric hospital in the country with 538 beds. With the expansion, UTHealth Houston now serves 29 counties in the surrounding Houston area. Recently, approval came to open up the UTHealth Houston School for Behavioral Sciences.
Learn more at UTHealth Houston 
POSTER SESSION
The 15th Annual NNDC Annual Conference with co-host UTHealth Houston will be held from October 12-14, 2023 – and we are excited to see all the posters this year in Houston, Texas! The Conference Program Committee welcomes all conference attendees to submit a poster related to depression and bipolar illnesses, particularly those that fit the conference theme. Posters can be submitted to one of two categories:
Basic Science

All areas of research are welcome, but posters dealing with approaches (both biological and psychosocial) to understanding mood disorders, new or repurposed treatments and technologies, monitoring strategies with the potential to improve patient outcomes, or objective measures like biometrics, neuroimaging, bloodwork, or genetics are encouraged.

Clinical Programs

Unified efforts are the best way to expedite technological innovation, dissemination of new information, and translation of research into clinical practice. Posters in this category might showcase multidisciplinary programs, demonstrate the efficacy of collaborations beyond academic boundaries, or deal with clinical assessments like patient questionnaires, clinical diagnoses, or clinical interviews.
A "Best of" and an "Emerging Scholar Best of" poster award was designated for each category. "Emerging Scholars" were graduate students, fellows, post-doctoral fellows, residents, or early career faculty within five years of fellowship or post-graduate appointment at Center of Excellence or Associate Member institutions. Download the full Poster Guidelines PDF or access the Submission Form (coming soon) using the buttons below!
Submission Deadline: TBA