2021 NNDC 13th Annual Conference Recap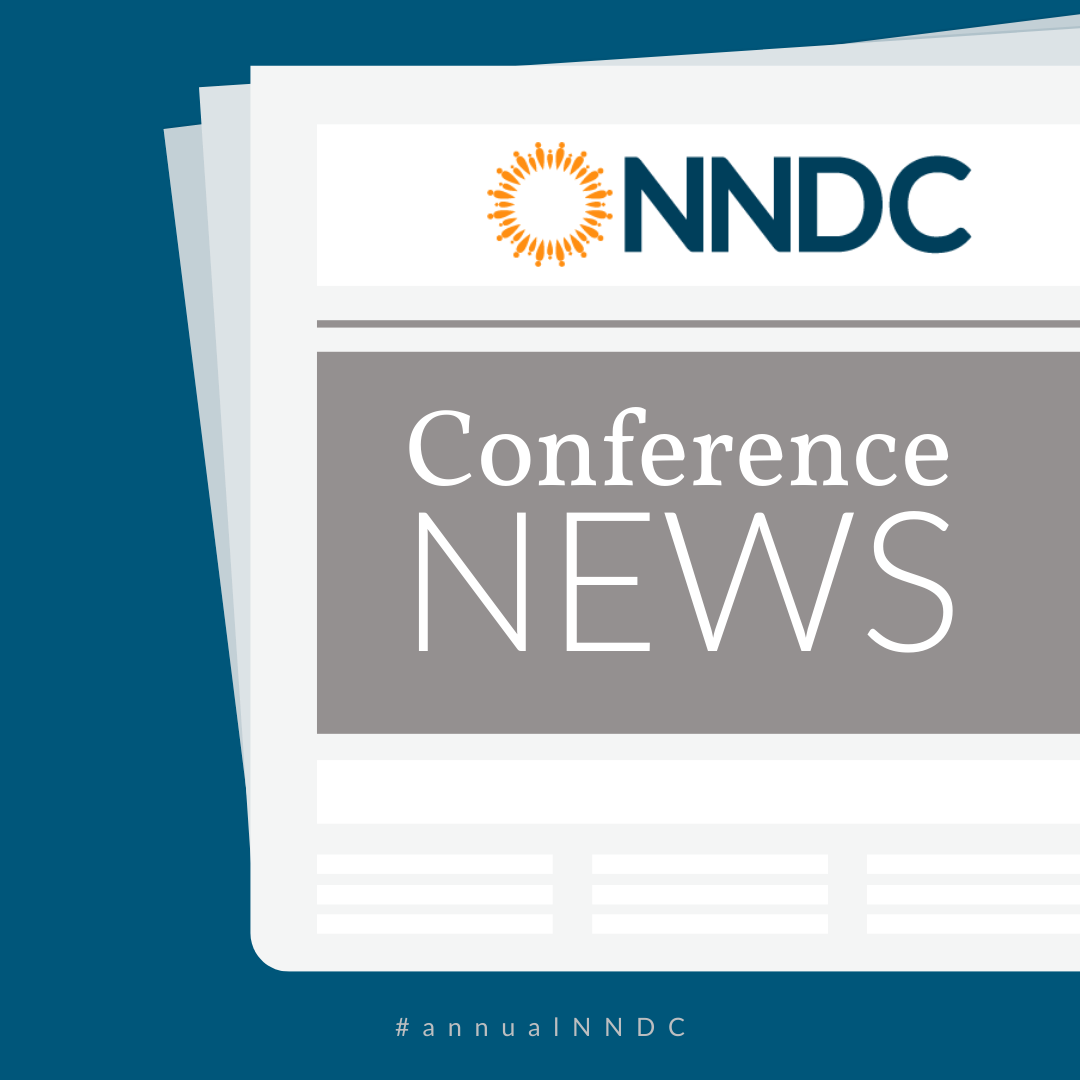 This fall the NNDC continued our virtual educational offerings with our thirteenth annual conference. We enjoyed two days of fantastic lectures, panel discussions, poster sessions, and new engagement options.
On September 21st, we held a pre-conference session on investigator-initiated grant funding with presentations from our sponsors. NNDC Development Manager, Rachel Skylis, also presented on educational grant funding with support from our sponsors. The conference then officially kicked off with Dr. Helen Mayberg of the Icahn School of Medicine at Mount Sinai. She gave a wonderful keynote talk entitled "Next Generation Strategies to Optimize DBS for Depression: Leveraging Technological Advances towards Precision Care." Later in the day, we enjoyed two panel discussions on youth interventions for bipolar disorder and multi-site studies. We closed the first day of conference programming with a virtual poster session featuring individual Zoom presentations for the category "Clinical Programs."
On September 22nd, Jane Pearson, PhD and Stephen O'Conner, PhD began the day with "NIMH Perspective on Suicide Prevention Research." This was followed by a lecture on "Dismantling Structural Racism in Psychiatry: The Path to Mental Health Equity" by Ruth Shim MD, MPH. The day of CME sessions wrapped up with a new feature "Hot Topics in Psychiatry" that covered SAINT, smartphones to track brain fitness, and psilocybin therapy. Following this was the second day of virtual poster sessions focused on the categories of "Basic Science" and "COVID-19 Research."
We closed out the thirteenth annual conference with a new feature, a joint awards ceremony hosted with the Depression and Bipolar Support Alliance (DBSA). The first half of the awards ceremony was hosted by the NNDC and included our poster presentation prizes (see this year's winners below!) and the second half was presented by DBSA to honor the 2021 Gerald L. Klerman Award winners.
We were pleased to select the following winners for Best Poster in each of three categories: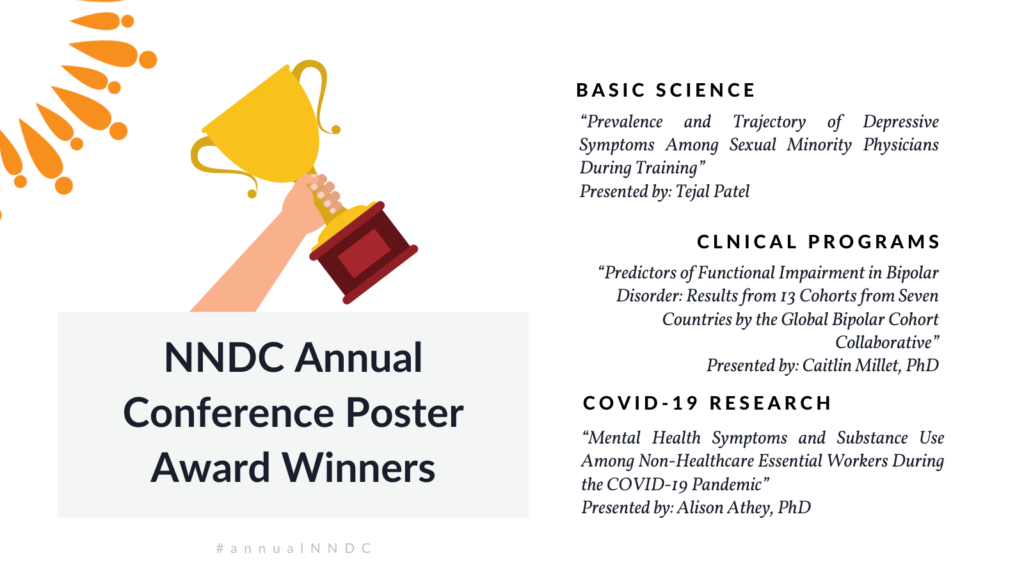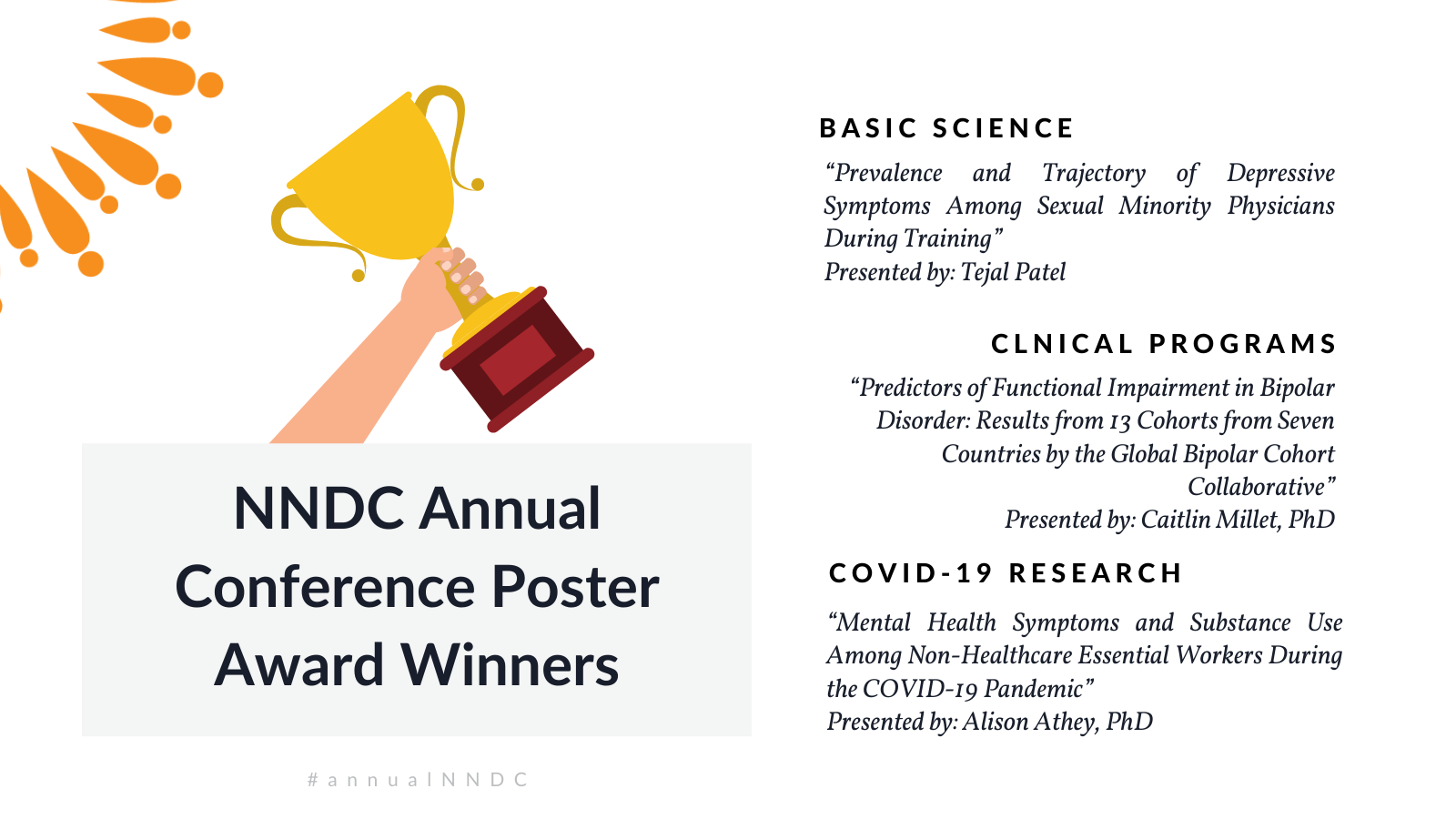 The NNDC is incredibly grateful to our attendees, speakers, panelists, program committee, and our sponsors for supporting our virtual educational offerings. We'll be back on November 17th to launch our next virtual program series. This six-part series will begin at 5:30 pm ET with a lecture by Dr. Leslie Hulvershorn. Stay tuned for more information!