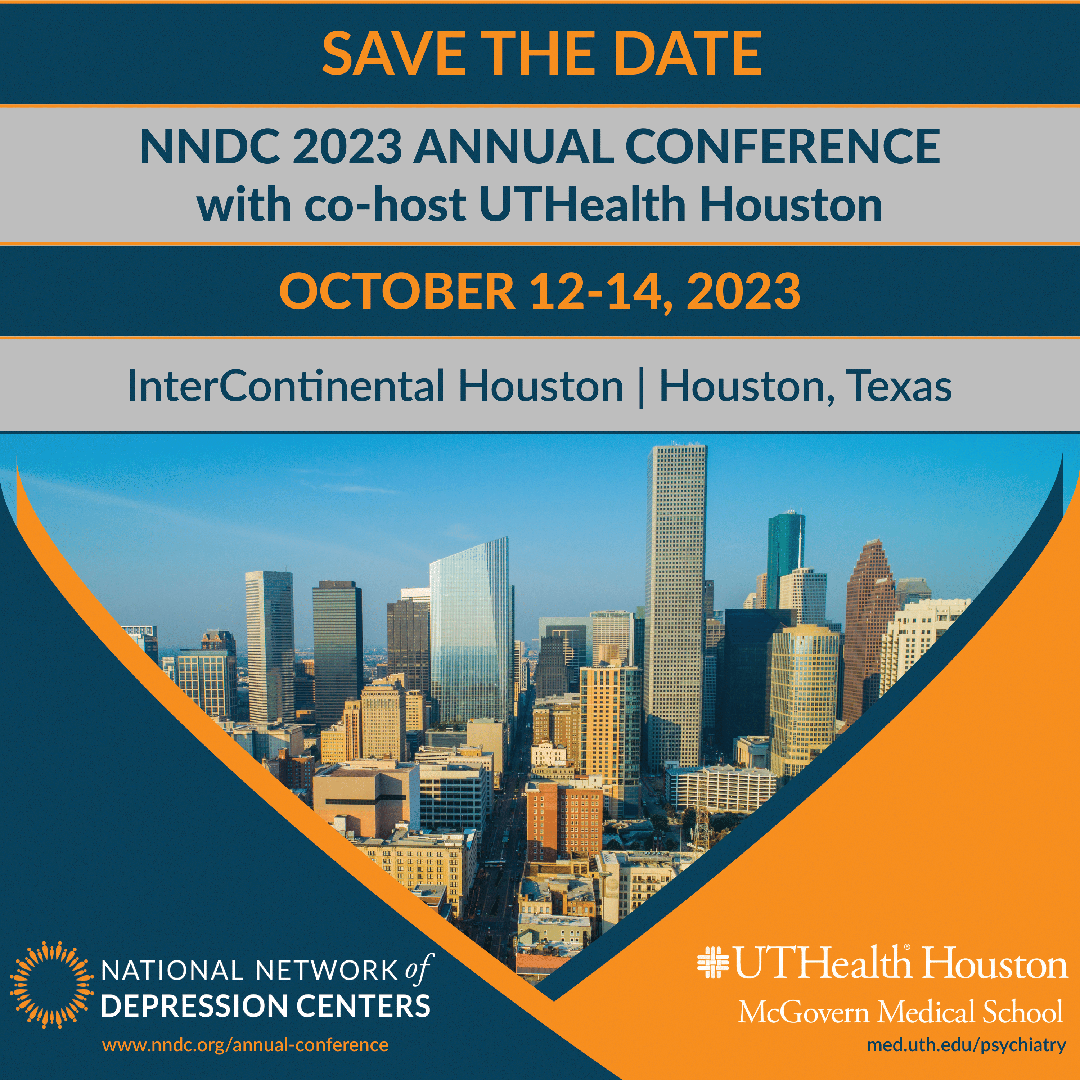 NNDC 2023 ANNUAL CONFERENCE
with co-host UTHealth Houston
October 12-14, 2023 | InterContinental Houston | Houston, Texas
The National Network of Depression Centers (NNDC) will hold its fifteenth annual conference from October 12-14, 2023 in Houston, Texas.
The conference will be structured a little differently this year with co-host University of Texas Health Science Center at Houston (UTHealth Houston). NNDC meetings (Board, Task Groups, Mood Outcomes, etc) will take place on Thursday, October 12th. Sessions on Friday, October 13th will be dedicated to NNDC academic research topics. Saturday, October 14th will focus on UTHealth Houston Continuing Medical Education (CME) content. However, as always, many NNDC sessions will be eligible for CME credit as well.
We hope that you will attend the conference to learn about the latest research, hear from leading experts, and network with others in your field.
For more information about this year's annual conference, including poster sessions and full program details, visit our 2023 Annual Conference page – and remember to sign up for our newsletter through our contact page to receive conference updates directly in your inbox.
THE NNDC ANNUAL CONFERENCE
In support of advancement through collaborative mental health research for our member institutions, the National Network of Depression Centers holds an Annual Conference each fall. The Annual Conference is a two-day educational event, bringing together NNDC members to learn from colleagues about the latest developments in the treatment and understanding of mood disorders. This CME-accredited event is hosted by a different NNDC Member Center every other year, providing the host site with an opportunity to shine a spotlight on local experts and programs.
The conference is not limited to member institution participants, although researchers and clinicians from member institutions benefit from a discounted ticket rate.
HISTORY OF THE NNDC ANNUAL CONFERENCE
Since the foundation of the NNDC in 2009, the goal of this annual conference has been to bring leading experts from across our network and around the world together to learn, discuss and explore opportunities to work together to address depressions and related mood disorders and improve patient outcomes. The content and theme of each conference is designed to respond to the changes, innovations, or new discoveries in the field of psychiatry. A short summary of a few of our most recent conference themes, locations, and content can be found below.
Each year that the annual conference is held in person, the NNDC supports early-career researchers with travel awards to present their research during the scientific poster session.  This session provides an opportunity for emerging scholars to gain feedback from recognized leaders in their field, inspire their colleagues, and compete, along with all the poster presenters, for poster awards. Travel awards are available to emerging scholars actively enrolled at or employed by a current NNDC Member Center. Submission requirements/directions for submissions will be posted in the details of "this year's conference" when we are accepting submissions.