Register Today!
The 2019 Annual Conference will be held Tuesday, September 24 through Wednesday, September 25* in Ann Arbor, Michigan. Please join us once again at the Ann Arbor Sheraton Hotel for another exciting and engaging educational event – program info, registration, and hotel links are all below.
*NNDC Board Members should plan to arrive on Monday, September 23 for our annual in-person Board Meeting.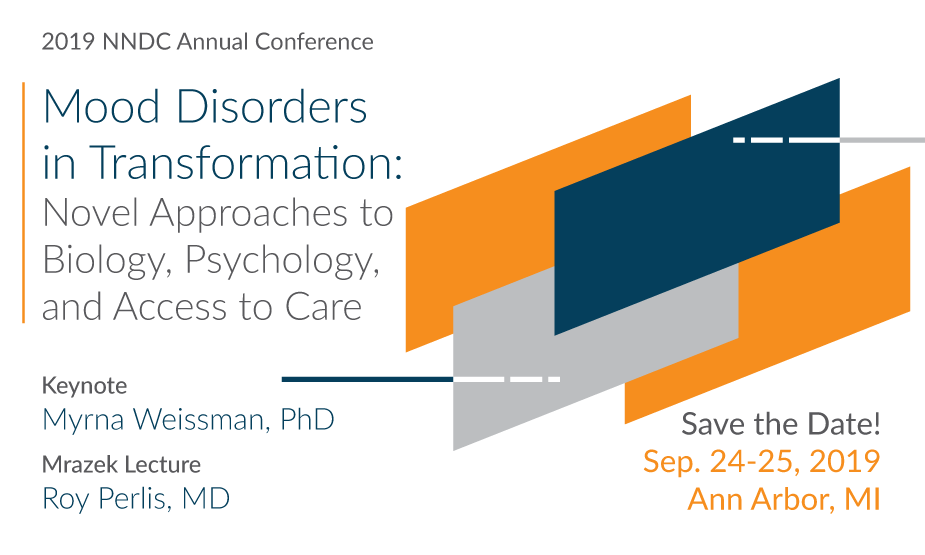 Registration is open for the 11th Annual NNDC Conference!
Use the links below to register and book your hotel room. Please note that our room block at the Sheraton Ann Arbor is open until Friday, August 30 – so be sure to make your travel plans accordingly! For those who are unfamiliar with traveling to Ann Arbor, Detroit Metro Airport (DTW) is only a 30-minute car ride from Ann Arbor.
Poster and Travel Award Submission
Conference attendees are encouraged to submit abstracts for posters related to depressions and bipolar illnesses in the categories of Basic Science, Clinical Programs, or Task Group Work. Additionally, eligible poster presenters can submit a request for one of 10 Emerging Scholar Travel Awards of up to $1,000 each. Please review the Poster and Travel Award Guidelines for eligibility rules and instructions on submitting a poster abstract or travel award application, then visit our Poster Submission Portal to complete your abstract submission and/or travel award application. All submissions must be completed by Friday, August 16 to be considered.
Preliminary Program Details
We are pleased to announce our Keynote and Mrazek Lecturers for the 2019 NNDC Anual Conference:
Keynote Lecture
Myrna M. Weissman PhD
Diane Goldman Kemper Family Professor of Epidemiology and Psychiatry
Columbia University Vagelos College of Physicians and Surgeons
Chief Division of Translational Epidemiology
New York State Psychiatric Institute
David Mrazek Memorial Lecture
Roy H. Perlis, MD
Professor of Psychiatry
Director, Pharmacogenomics Research
Department of Psychiatry and Center for Human Genetic Research
Medical Director, Bipolar Clinic and Research Program
Massachusetts General Hospital
The NNDC Conference Program Committee is hard at work identifying additional topics and speakers to finalize the agenda for the 2019 Annual Conference – please check back soon for more information.
Special thanks go to the members of our Program Committee, listed below, who work hard each year to set the theme and identify speakers for the Annual Conference.
Janis Anderson, PhD
Brigham & Women's Hospital & Harvard Medical School
J. Raymond DePaulo, Jr, MD
Johns Hopkins University
Heather Flynn, PhD
Florida State University
John Greden, MD
University of Michigan
Cheryl McCullumsmith, MD, PhD
University of Toledo
Sagar Parikh, MD, FRCPC – Conference Chair
University of Michigan
Shirlene Sampson, MD
Mayo Clinic
Christopher Schneck, MD
University of Colorado Anschutz Medical Campus
Sponsorship and exhibiting opportunities are still available – visit our Contact Us page to request a listing of all available packages.
Thank you to the following sponsors and exhibitors for supporting the 2019 NNDC Annual Conference!