Job Opening: NNDC Executive Director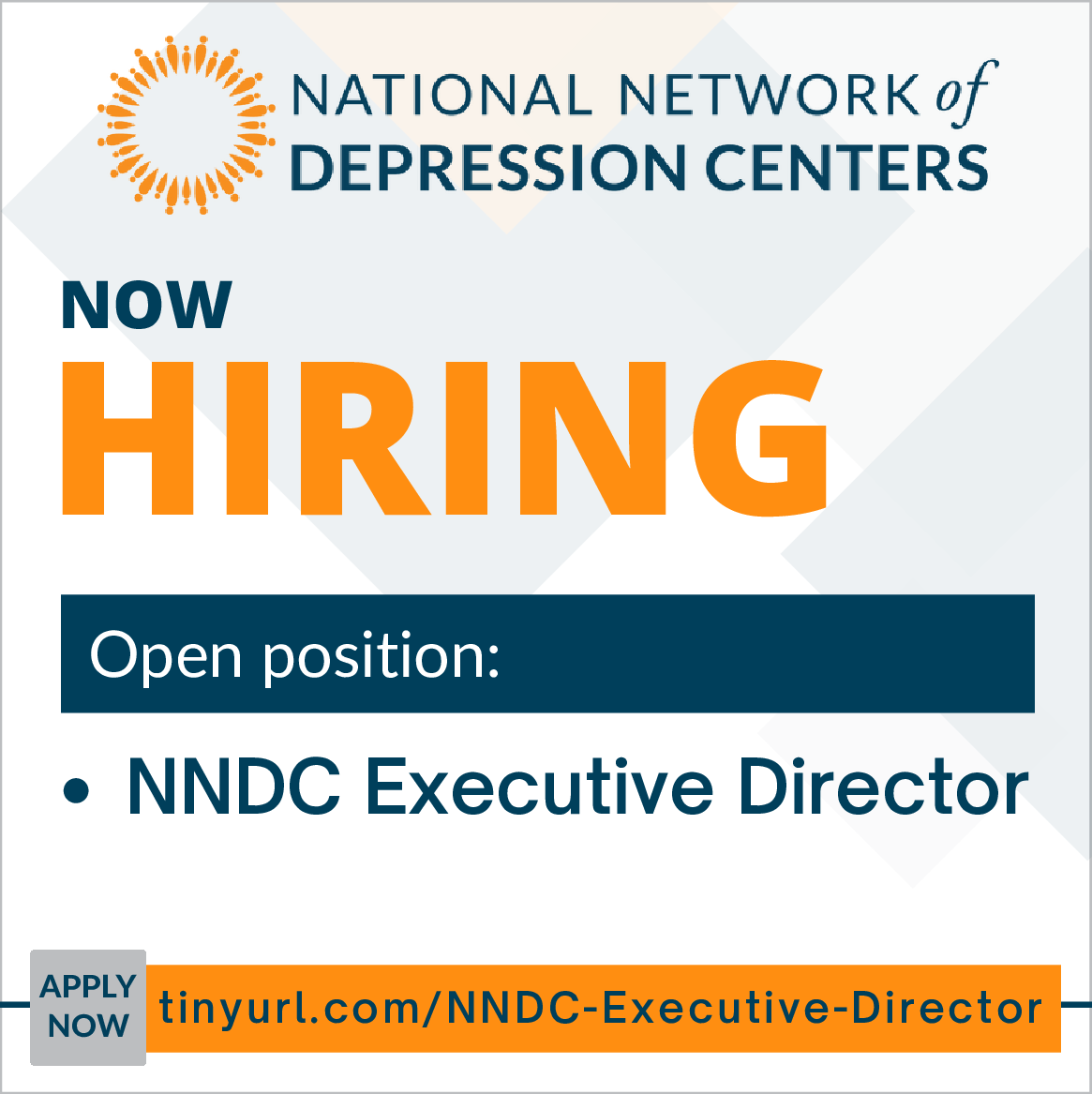 NNDC EXECUTIVE DIRECTOR
Position Description
Apply Now on the NPPN website: tinyurl.com/NNDC-Executive-Director
The NNDC at a Glance
The National Network of Depression Centers (NNDC) is a rapidly growing consortium of leading academic medical centers across the nation. Its mission is to advance and integrate excellence in research, clinical care, education, and public policy for individuals suffering from depressive, bipolar, and related mood disorders. The NNDC draws inspiration from other highly effective national networks that have successfully addressed major medical conditions such as cancer, diabetes, and heart diseases. By adopting key strategies from these networks, the NNDC aims to enhance its impact and effectiveness in key areas, such as:
Building a comprehensive registry: The NNDC strives to establish a large-scale registry with hundreds of thousands or even millions of individuals. This registry will facilitate research, allowing for a better understanding of the various causes of mood disorders, the development of biomarkers, and the creation of personalized treatment approaches.
Promoting global dissemination of advances and preventive strategies: The NNDC seeks to share its findings and advancements with a global audience. By disseminating knowledge and preventive strategies, they aim to contribute to the fight against depressions and bipolar disorders while working towards eradicating the associated stigma.
The NNDC operates as a 501(c)(3) organization with a Board of Directors comprising representatives from each member center and an elected Executive Committee. Funding for the NNDC is derived from membership dues, grants, and gifts. The organization is headquartered in Ann Arbor, Michigan.
Executive Director Role
The role of Executive Director demands exceptional leadership abilities, strong interpersonal skills, creativity, and experience in capacity building and revenue generation through private and corporate fundraising, as well as innovative business development. It requires a deep understanding of the mechanics and challenges faced by organizations in the growth phase. Moreover, the Executive Director should possess the skills to establish and sustain an interdisciplinary coalition of top researchers, clinicians, educators, and administrators in the medical and academic fields.
The Network is poised to expand, potentially reaching 30 Centers of Excellence in the coming years, accompanied by increased faculty and staff membership, as well as an expanded scope of activities. The current strategic plan of the NNDC extends until the end of 2024 and focuses on four main goals:
Collaborate to Advance the Field
Disseminate the Standard of Care
Conduct Large-scale, Longitudinal Research
Ensure Financial Sustainability
The Executive Director will be responsible for leading and managing this dynamic nonprofit venture, with the primary goals serving as guiding principles. While minor refinements may be made to these goals in the next strategic plan, the emphasis will be on identifying and implementing new tactics to achieve them. The successful candidate must be capable of actively participating in and leading various aspects of the organization's work.
Key Responsibilities
The Executive Director assumes overall responsibility for all business operations, including budget management, revenue generation (including fundraising), compliance, strategic planning, marketing and communications strategy, program oversight, human resources/staff development, support for over 600 academic faculty members within the Network, and coordination of the Board of Directors, Executive Committee, and other stakeholder groups and initiatives.
The primary objective is to maximize operational efficiency and economy while expanding the revenue base, fostering collaborations, and positioning the organization for future growth.
Specific duties of the Executive Director include:
Serving as the public representative of the NNDC, cultivating and nurturing relationships with external entities, including nonprofit organizations, academic institutions, government agencies, corporate entities, and the general public.
Providing executive support to the Board Officers, cultivating relationships among members, and acting as a liaison between individual members, Task Groups, the Executive Committee, and the Board of Directors.
Developing and implementing a long-term plan for organizational growth and development, encompassing corporate sponsorships, donor fundraising, grants, business opportunities, and partnerships.
Proposing policies, procedures, and strategic directions for approval by the Board of Directors.
Executing, refining, and evaluating strategies and programs as directed by the Board.
Establishing and coordinating collaborative teams, evaluating reports, and providing summaries to the Executive Committee and Board of Directors.
Demonstrating the ability to understand, launch, and manage large-scale, federally funded, multi-site initiatives related to mood disorders.
These responsibilities will be instrumental in achieving the NNDC's goals and ensuring the continued success and impact of the organization.
Reporting and Salary
The Executive Director reports to the Executive Committee and the Board of Directors via the Board Chair. Salary is competitive and commensurate with experience-level.
Benefits and Culture
This is a full-time salaried position with a generous benefits package. This includes health, dental, and vision insurance, paid time off, paid sick leave, and a 401(k) savings plan with a match. The NNDC team is a professional and friendly group of four who work in close communication with each other. The work is primarily virtual at this time, with periodic in-office days in our Ann Arbor, MI office, offering a flexible in-office/at-home work schedule.
Qualifications
Candidates will be evaluated based on their proven ability to apply their prior experiences, both professional and educational, to the needs of the NNDC in this current phase of growth. Advanced education, while desirable, is not required for success in this position.
The preferred candidates will be able to demonstrate:
A track record of success leading an organization, especially a nonprofit or for-profit entity, through phases of strategic growth;
Management of or direct experience in strategic fundraising, such as corporate sponsorships, major gifts, and/or revenue generation through internal and external business development; and
Leadership in fostering and sustaining collaborations among geographically distant staff/stakeholders/partners
Prior experience with academic institutions, health-care delivery systems, and government agencies is a plus, but not required.
EEO Statement
The National Network of Depression Centers is an equal opportunity employer and prohibits discrimination and harassment of any kind. All employment decisions are based on job requirements and individual qualifications, without regard to race, color, religion, sex, sexual orientation, gender identity, national origin, age, disability, veteran status, or any other characteristic protected by law.
Apply Now on the NPPN website: tinyurl.com/NNDC-Executive-Director